California Based Cannabis Processing
Utilize Our Extraction Expertise!
Founded in 2014, Floracy is a legacy company with deep roots in the Northern California cannabis industry. We know that great flower leads to great oil, so we only source the highest quality local cannabis for our products. Specializing in boutique extraction, all of our products use our Full Extract Cannabis Oil (FECO). Our direct partnership with TruSteel, the industry leading equipment and knowledge provider, created a proprietary process that results in consistent high-cannabinoid oil. We offer a wide array of products and services, check out all the ways Floracy can help you below!
Toll Processing Services
We work with cultivators to process their flower into a high-quality, Full Extract Cannabis Oil, utilizing the best equipment and proven processes that work.
Manufacturing and Packaging Services
From helping clients manufacture a specific product to white-labeling and packaging services, Floracy can streamline the process from trim to testing in our state of the art processing facility in Nevada City, CA.
Full Extract, High CBD Cannabis Oil
We manage the process from genetics to extraction, working with the best cultivators in Northern California, creating the finest High CBD products on the market.
Why Partner with Floracy?
Floracy is locally based in the heart of Northern California in Nevada City, roughly an hour from Sacramento, Lake Tahoe, and Reno. We encourage cultivators and other processors to come pay us a visit!
Our Products
Full Extract Cannabis Oil therapy is specific to each individual and the conditions being treated. We offer an array of CBD:THC extracts so you and your healthcare provider can choose which is best for you.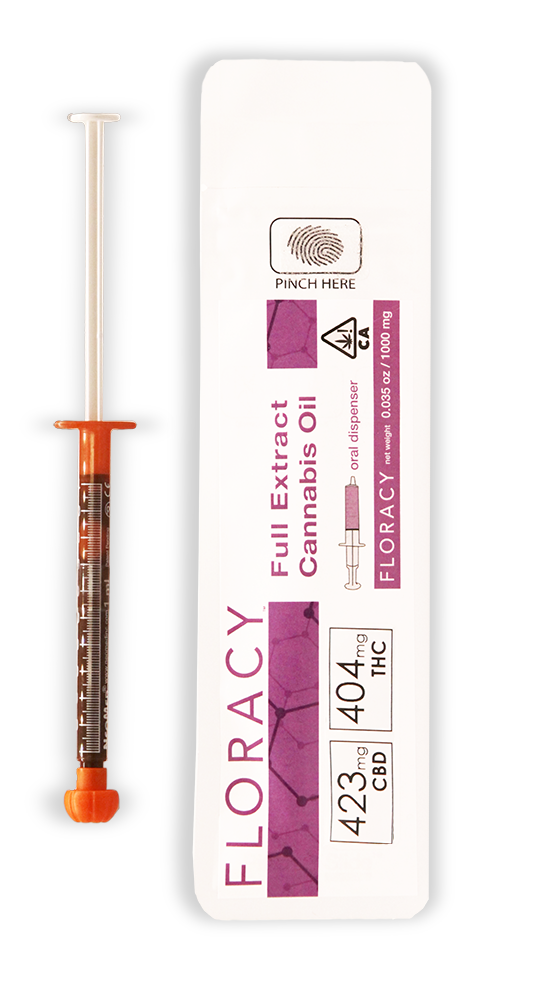 1:1 CBD:THC
Floracy 1:1 Full Extract Cannabis Oils are approximately one part CBD to one part THC by weight.  This product is psychoactive when ingested.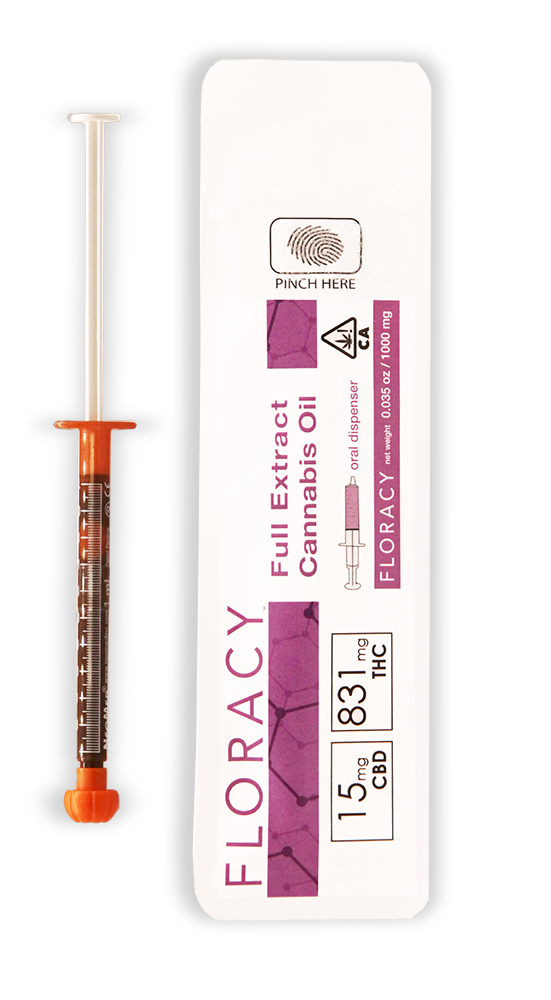 High THC
Floracy High THC Full Extract Cannabis Oils are approximately fifty or more parts THC to one part CBD by weight.  This product is psychoactive when ingested.
GOVERNMENT WARNING: THIS PRODUCT CONTAINS CANNABIS, A SCHEDULE I CONTROLLED SUBSTANCE. KEEP OUT OF REACH OF CHILDREN AND ANIMALS. CANNABIS PRODUCTS MAY ONLY BE POSSESSED OR CONSUMED BY PERSONS 21 YEARS OF AGE OR OLDER UNLESS THE PERSON IS A QUALIFIED PATIENT. THE INTOXICATING EFFECTS OF CANNABIS PRODUCTS MAY BE DELAYED UP TO TWO HOURS. CANNABIS USE WHILE PREGNANT OR BREASTFEEDING MAY BE HARMFUL. CONSUMPTION OF CANNABIS PRODUCTS IMPAIRS YOUR ABILITY TO DRIVE AND OPERATE MACHINERY. PLEASE USE EXTREME CAUTION;
Where To Find Our Full Extract Cannabis Oil:
Available only in the State of California in licensed cannabis dispensaries