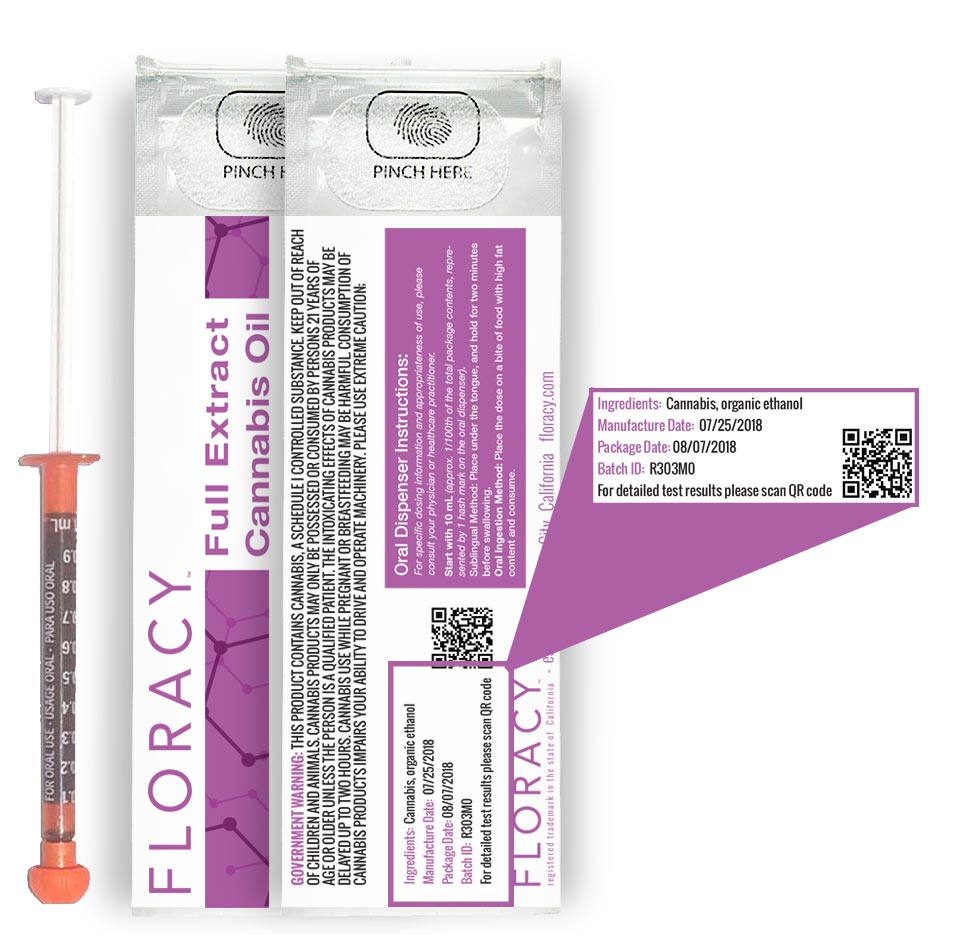 Manufacturer/Distributor: FLORACY, INC. dba FLORACY

315 Spring St., Suite D

Nevada City, CA 95959

Product Name: Full Extract Cannabis Oil, 1 gram oral dispenser

Batch ID: R303MO

*batch ID is located on the back panel of the product package

Reason for Notification:  This product batch contains ethanol quantities which exceed the action level limits set by the Bureau of Cannabis Control.

A voluntary recall is being issued to comply with current regulatory standards; this is not a safety recall.

The product was available for purchase at the following dispensaries between August 17 and September 14, 2018:
| Dispensary | Location |
| --- | --- |
| Elevation 2477 | Nevada City |
| A Therapeutic Alternative | Sacramento |
| Abatin Wellness Center | Sacramento |
| Dixon Wellness Center | Dixon |
| Berkeley Patients Group | Berkeley |
| Cannabis Buyers Club of Berkeley | Berkeley |
If you have purchased the affected product, please contact FLORACY at

Email: info@floracy.com

Phone: (530)264-7592
GOVERNMENT WARNING: CANNABIS, A SCHEDULE I CONTROLLED SUBSTANCE. KEEP OUT OF REACH OF CHILDREN AND ANIMALS. CANNABIS MAY ONLY BE POSSESSED OR CONSUMED BY PERSONS 21 YEARS OF AGE OR OLDER UNLESS THE PERSON IS A QUALIFIED PATIENT. CANNABIS USE WHILE PREGNANT OR BREASTFEEDING MAY BE HARMFUL. CONSUMPTION OF CANNABIS IMPAIRS YOUR ABILITY TO DRIVE AND OPERATE MACHINERY. PLEASE USE EXTREME CAUTION.