High CBD, Hello Wellness.
High CBD Full Extract Cannabis Oil
Different from the rest
We manage the process from genetics to growth to extraction,

creating the finest High CBD products on the market.
Proven CBD Cannabis strains
We work with professional cultivators to grow specific CBD strains with proven therapeutic benefits.
Full Extract Cannabis Oil
Using the whole Cannabis plant and cold ethanol for sub-zero extraction we capture the full spectrum of beneficial cannabinoids, terpenes, and flavonoids.
Comprehensive Testing
To ensure accurate dosing and clean, safe medicine, we work with state-licensed testing laboratories to analyze  the cannabis and cannabis products multiple times throughout the growth and extraction process.
Pure Nature
We make it right the first time. That means using plants grown using strictly organic farming methods and pharmaceutical-grade cane ethanol to produce single-strain cannabis extracts. No additives — ever.
Our Products
Cannabis therapy is specific to each individual and the conditions being treated. We offer an array of extracts in CBD‐dominant ratios (CBD:THC), so you and your healthcare provider can choose which is best for you.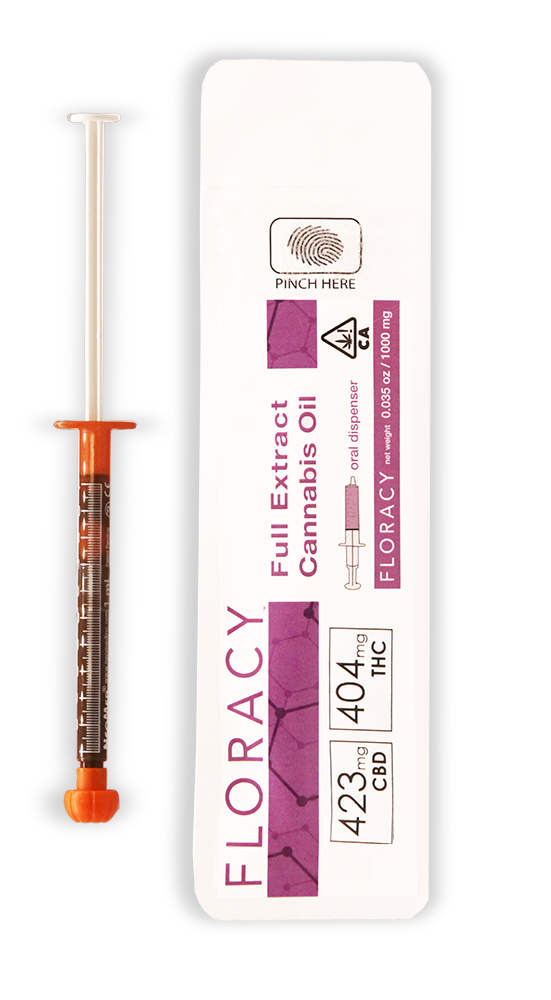 1:1 CBD to THC
Floracy 1:1 full extract cannabis oils are approximately one part CBD (cannabidiol) to one part THC by weight.  This product is psychoactive when ingested.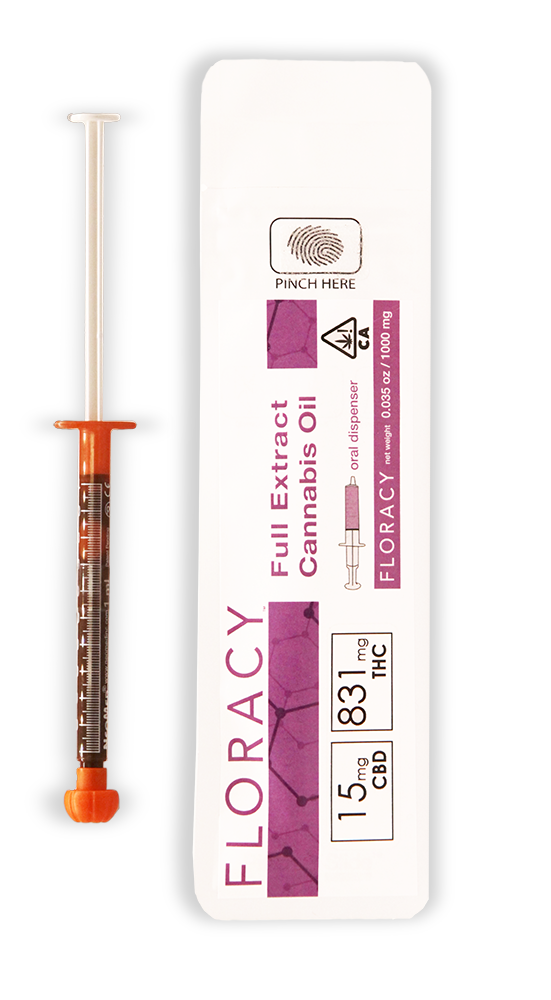 High THC
Floracy high THC full extract cannabis oils are approximately twenty or more parts THC and CBD (cannabidiol) by weight.  This product is psychoactive when ingested.
GOVERNMENT WARNING: THIS PRODUCT CONTAINS CANNABIS, A SCHEDULE I CONTROLLED SUBSTANCE. KEEP OUT OF REACH OF CHILDREN AND ANIMALS. CANNABIS PRODUCTS MAY ONLY BE POSSESSED OR CONSUMED BY PERSONS 21 YEARS OF AGE OR OLDER UNLESS THE PERSON IS A QUALIFIED PATIENT. THE INTOXICATING EFFECTS OF CANNABIS PRODUCTS MAY BE DELAYED UP TO TWO HOURS. CANNABIS USE WHILE PREGNANT OR BREASTFEEDING MAY BE HARMFUL. CONSUMPTION OF CANNABIS PRODUCTS IMPAIRS YOUR ABILITY TO DRIVE AND OPERATE MACHINERY. PLEASE USE EXTREME CAUTION;
Therapeutic-Grade, Full Extract Cannabis Oil
Floracy follows several key principles to optimize the therapeutic value of our full
extract cannabis oil. These principles include using whole plant and
extracting with cold ethanol (not CO2) for a broad-spectrum entourage effect.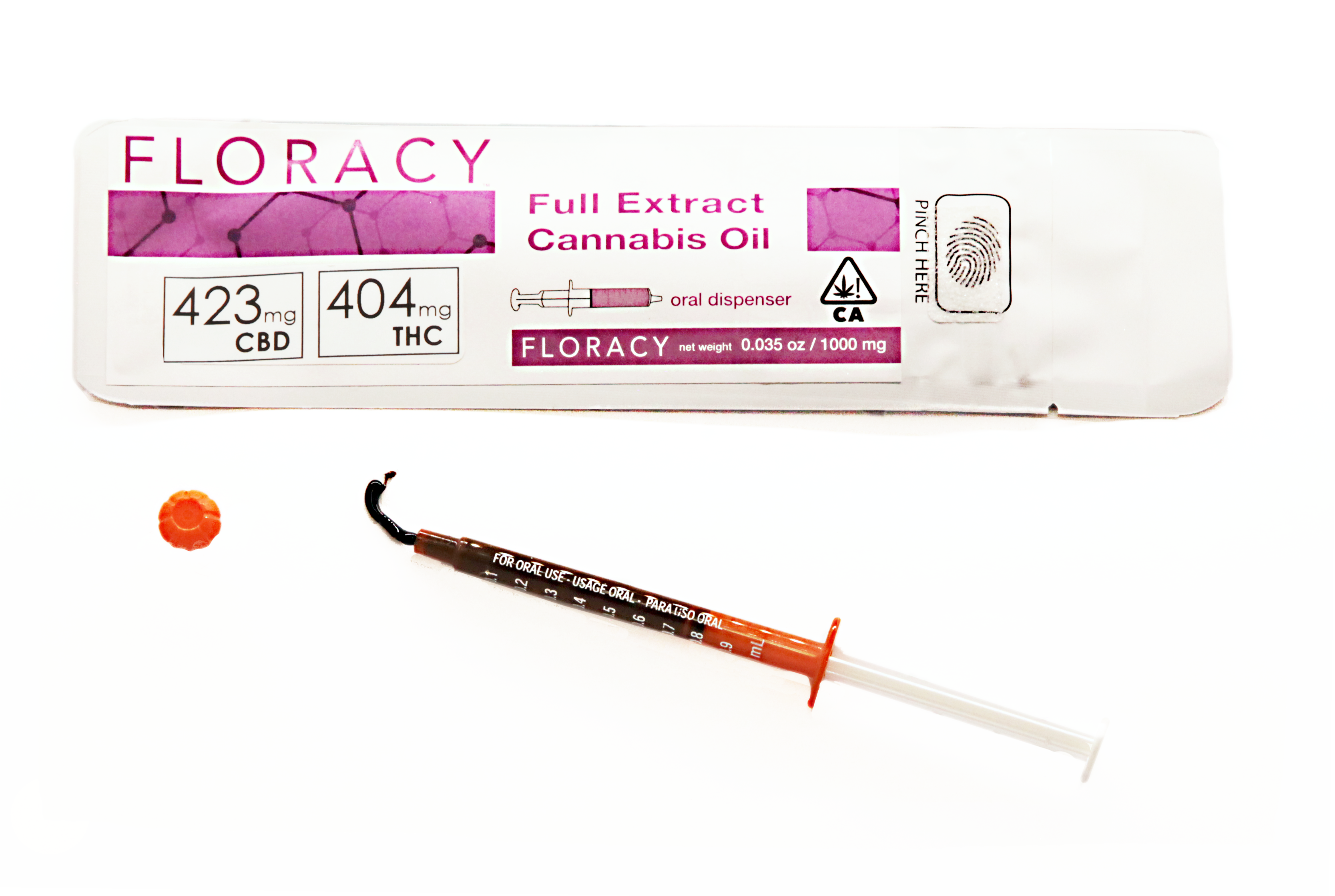 Made from whole cannabis flowers
Contains no CBD isolates or hemp derivatives
Lab-tested to rigorous California standards
Certified organic, pharmaceutical-grade cane ethanol used for purity
highly concentrated: 4 – 100 doses per gram
Cold ethanol extraction optimizes the entourage effect
Learn How High CBD Cannabis May Help With…
Scientific research has shown CBD & THC may be therapeutic for many conditions. Our friends at Project CBD have compiled hundreds of  articles in support of these therapeutic properties and which ailments they have helped to improve.
Alzheimer's disease
cancer
Epilepsy & Seizures
Chronic Pain
Where To Find Our Full Extract Cannabis Oil:
Available only in the State of California in licensed cannabis dispensaries